Eheringe gravieren – Ideen und Inspiration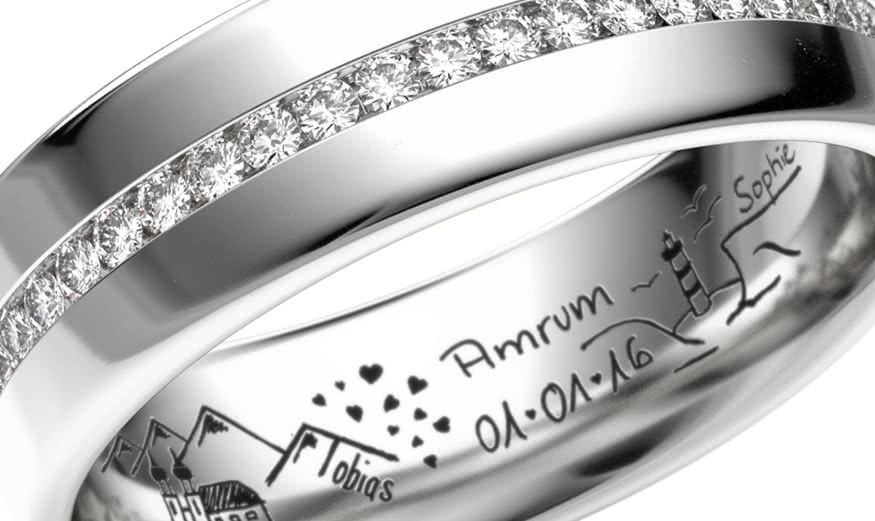 Eheringe gravieren – Ideen und Inspiration
Wenn ihr euch auf den Bund der Ehe vorbereitet oder bereits verheiratet seid, dann wisst ihr sicherlich, dass die Eheringe eine besondere Bedeutung haben. Sie symbolisieren die Verbundenheit und Liebe zwischen euch als Paar. Eine tolle Möglichkeit, eure Eheringe noch persönlicher und einzigartiger zu gestalten, ist die Gravur.
Die Bedeutung einer Ehering-Gravur
Eine Gravur in den Eheringen verleiht ihnen eine individuelle und persönliche Note und erlaubt es euch, eine Botschaft für euren Partner zu hinterlassen. Egal, ob es sich um ein Datum, eure Namen, ein Zitat oder einen Spruch handelt – die Gravur macht eure Ringe zu einem unvergesslichen Zeichen eurer Liebe.
Kreative Ideen für Ehering-Gravuren
Wenn ihr nach inspirierenden Ideen für die Gravur eurer Eheringe sucht, haben wir hier einige Vorschläge für euch:
1. Koordinaten eines besonderen Ortes
Möchtest du auf persönliche Namen, übliche Sprüche und Symbole in der Gravur verzichten? Dann bietet sich eine alternative Möglichkeit an: Die Verwendung der Koordinaten eines besonderen Ortes. Dies könnte beispielsweise der Ort des Antrags, der Hochzeit, des Kennenlernens oder des ersten Dates sein.
2. Fingerabdruck oder Herzschlag des Partners
Wer den Eheringen eine einzigartige persönliche Note verleihen möchte, kann den Fingerabdruck oder den Herzschlag des Partners gravieren lassen. Diese Art der Gravur ist nicht nur besonders romantisch, sondern auch eine wunderbare Möglichkeit, eure Verbundenheit zu symbolisieren.
3. Komplexe Bilder oder Schriften
Heutzutage sind bei der Gravur beeindruckende Möglichkeiten vorhanden, einschließlich der Umsetzung komplexer Bilder oder Schriften. Dank moderner Lasergravur können auch filigrane und außergewöhnliche Arbeiten problemlos realisiert werden.
Beliebte Gravur-Optionen für Eheringe
Was lassen sich die meisten Ehepaare in ihre Ringe gravieren? Hier sind einige der beliebtesten Optionen:
Datum der Hochzeit
Datum und Name des Partners
Name des Partners
Beide Namen
Ein Zitat oder Spruch
Beliebte Sprüche für die Eheringe:
Ewig dein. Ewig mein. Ewig unser.
Für immer und ewig
Zwei Herzen – ein Takt
Ich liebe dich!
Zwei Seelen – ein Gedanke
Bis zum Mond – und zurück
An deiner Hand – ein Leben lang
In Liebe vereint
Lieblingsmensch
Ein Leben lang an Deiner Seite
Sprüche für die Eheringe auf Englisch:
Two rings – one love (Zwei Ringe – eine Liebe)
Forever … Together (Für immer … gemeinsam)
You have my heart (Dir gehört mein Herz)
Ever thine. Ever Mine. Ever Ours. (Ewig dein. Ewig mein. Ewig unser.)
Today, tomorrow, always (Heute, morgen, immer)
Truly, Madly, Deeply (Wirklich, verrückt, zutiefst)
Now and forever (Jetzt und für immer)
Every day next to you (Jeden Tag neben dir)
With you I am home (Bei dir bin ich zu Hause)
I love you (Ich liebe dich)
Fazit
Die Gravur eurer Eheringe ist eine wunderbare Möglichkeit, eure Liebe und Verbundenheit auf ganz persönliche Weise zu symbolisieren. Wir kümmern uns um alles. Wir lassen jede Idee Wirklichkeit werden.
Q&A – Häufig gestellte Fragen
1. Kann man komplexe Bilder gravieren lassen? Ja, dank moderner Lasergravur-Technologie ist es möglich, auch komplexe Bilder oder Schriften auf eure Eheringe gravieren zu lassen. Dies eröffnet unzählige kreative Gestaltungsmöglichkeiten.
2. Wie lange dauert die Gravur der Eheringe? Die Dauer der Gravur hängt von der Komplexität und dem Material eurer Ringe ab. In der Regel dauert es jedoch nur wenige Tage, sodass eure Ringe rechtzeitig für den großen Tag fertig sind.
3. Kann man die Gravur später ändern lassen? Ja, in den meisten Fällen ist es möglich, die Gravur später zu ändern oder zu erweitern.